The most important thing is to keep your kids active and engaged nowadays as most of them spend their time sitting in front of screens at home. Now is the perfect time to teach children about yoga and its benefits for their health. We already know how beneficial yoga is for any age. It improves hand and eye coordination and can be done almost everywhere. Whether you are a kid, an adult, or a senior citizen, Yoga strengthens the link between your mind and body, improves the power of having patience, develops focus, enhances balance, etc. It offers a lot more of other benefits, especially to the kids. If you're searching for a way to provoke your kids towards yoga, start with some adorable yoga props for kids.
Here, in this article, you can find kid-friendly yoga props like mats, books, games, cards, clothes, and many more. Props having attractive visual appeal engage kids in this ancient practice of yoga through play easily and quickly. Have a look!
Tips to Consider When Introducing Yoga Props to Kids
Yoga props for kids can be used in balancing as well as focusing while performing. These are the tools that make yoga practices much easier for kids to do. Kids love to do these yoga sessions with the help of props. But before providing them with the props directly, we should make them understand the proper usage and importance of these yoga props.
Before introducing yoga props to kids, build a strong and quiet environment in the classroom or wherever you are teaching yoga to kids. Make them understand to learn everything seriously and attentively.
Pick only one or two of the yoga props for kids to teach with at first. Then gradually move forward with other ones.
If you realize that any of the particular yoga props for kids were not effective at first, put them away and try them some other time.
Explain properly how you are going to use the props before providing them to the kids. You can also have a responsible volunteer with you to help you out in front of kids.
Take a minute to observe every kid and their needs and interests then think about which yoga props for kids might be the best fit for every kid present.
Don't waste a lot of money on yoga props for kids. You can try to use the things that you already have in the house and see if they work in your yoga class.
Make your own plan of utilizing the yoga props for kids in class and make them understand to use them the same way. Also, let the kids know that they can ask freely how to use yoga props.
Appreciate your kids whenever they use the yoga props appropriately. This will boost their confidence and make them perform well.
Use such yoga props for kids that are based on a particular theme (for example: for your jungle yoga class, rainsticks, monkey puppets, jungle photos, etc) and have fun with the props.
Some Best Yoga Props for Kids
Here we are with some of the yoga props for kids that are fun and kid-friendly. Have a look at the options described below:
1. Yoga Mats
Yoga Mat is one of the crucial yoga props for kids. There are a number of non-toxic and non-slip yoga mats available for kids with a large variety of patterns, colors, and visuals according to girls and boys. Yoga mats also keep kids safe from any injury that happens while performing yoga.
They make really cute and attractive versions of yoga mats for kids. Some of the best Yoga mats are:
Gaiam Kids Yoga Mat
TotFit Toddler Yoga Mat
Hugger Mugger Ultra Kid's Yoga Mat
Little Yogis Collection by Yoga Direct
YOGA DIRECT Kids Yoga Mat
Borpein Toddler's Yoga Mat
Alex Active Yoga Kids Activity Exercise Mat
The Chi Mat
REALLY GOOD STUFF Children's Yoga Mat
2. Zenergy Chimes
Zenergy chimes are one of the attractive yoga props for kids to develop focus, concentration, and listening skills which is also known as meditation. In a group yoga class, this chime can be used as a classroom management tool. For example, ring the bell and when the children hear the chime, it is time to come back to their mats, get quiet, close their eyes, and focus. This is a fun and engaging meditation tool for parents to have at home too.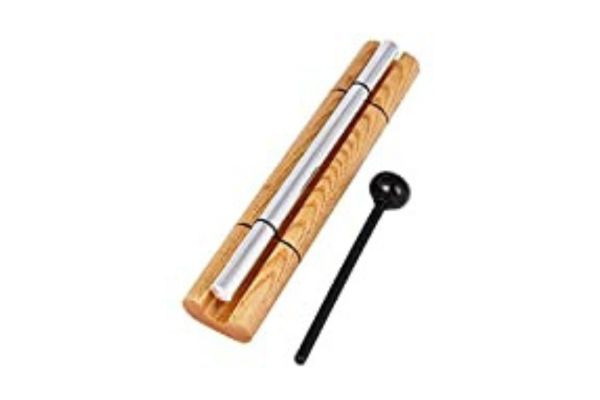 How to Use:
When the bell rings, kids close their eyes and concentrate only on the sound of the bell as it gets ringing. When they can't hear the bell anymore, they raise their hands. Kids usually love this yoga prop as they get turns to ringing the bell themselves!
3. Hoberman Sphere (aka the "breathing ball")
The Hoberman Sphere, or breathing ball, can help teach mindful breathing. It can be used to make the kids understand how the lungs fill with air, expand on the in-breath, and then contract on with the out-breath. It comes in several sizes. This is one of the yoga props for kids which allows them to visually see how their breath actually works and how to take deep breaths for the feeling of peace and relaxation.
How to Use:
When the ball opens up, tell kids to take a deep belly breath, and when the ball closes, tell them to exhale. Kids will love the opportunity to open and close the ball by themselves and will practice deep breathing in a fun way.
4. Yoga Pose Cards
Yoga pose cards are perfect for early elementary-aged yogis who are starting to get curious about their own home practice. They can use the cards as the best yoga props for kids to learn poses or to string poses together into a flow. These cards include photos of real kids in each yoga pose and show breathwork and other yoga activities. Some of the types of Yoga Pose Cards are listed below:
Kids Yog Challenge Pose Cards – These are the pull cards with over 40 poses with partner poses, and games from the pouch. In this, the yoga poses are rated by a difficulty level of one to five stars and are fun to do with a family or even on your own.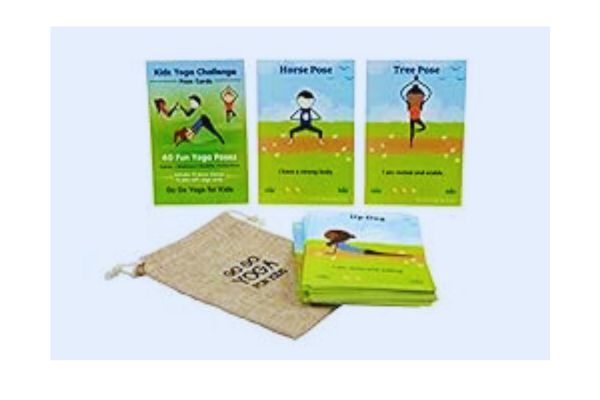 Yogi Fun Kids Yoga Cards Kit – Here's another top seller for multiple ways to get into your yoga practice between games, cards, poems, two dice, and more.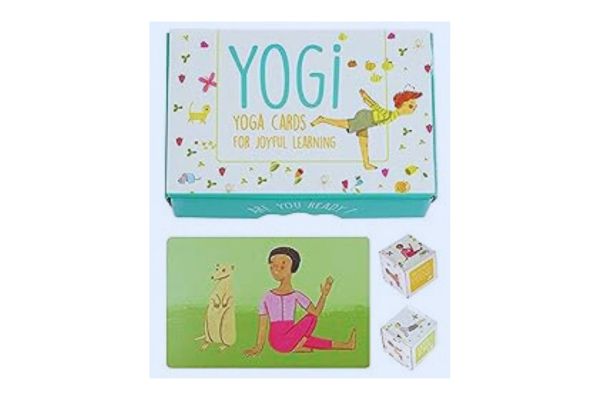 Yoga Pretzels – This deck of 50 cards is another fun for kids. The pose and breathing instructions given on the cards are easy to follow.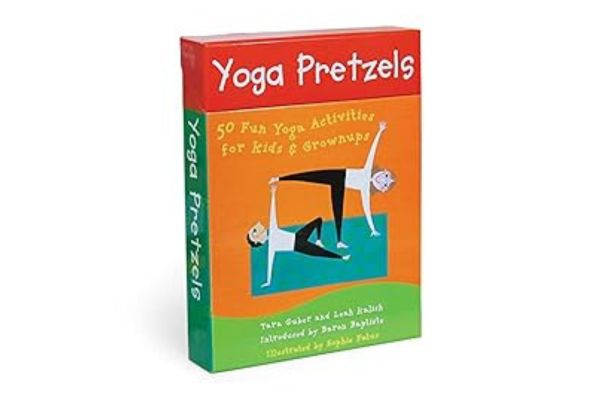 5. Yoga Books
Yoga books for kids have the concepts of mindfulness and breathing in them. These books are useful resources even for parents who keep looking for ways to effectively teach yoga poses to their kids. Some Yoga books for kids are listed below:
Breathe Like A Bear – This Yoga Book for kids teaches how to manage their breath and emotions mindfully. Breathe Like a Bear includes exercises that can be performed anywhere — at home, in the car, in a restaurant, any time.
Good Night Yoga – Kids love to hear stories from their parents at the end of the day. With Good Night Yoga: A Pose-by-Pose Bedtime Storybook, kids can practice yoga for a restful night of sleep that is inspired by animals in nature.
Yoga for Children – This book is basically recommended for parents who want to teach their kids yoga in an effective manner. With the help of the Yoga for Children book, parents can learn various aspects of teaching yoga practices to their kids.
6. Yoga Sets and Games for Kids
You can even go beyond books, cards, and yoga props for kids to get your kids involved in yoga practices. Here are some yoga sets and play games crafted for kids in order to grow interest in yoga among kids.
Stretch And Play Eco Ball Kit – This kit is actually suitable for kids who are three years old and up. It comes with 20 exercises and four games on a poster for use with the ball to make a fun kids' yoga set. The ball comes with its own foot pump which is an extra bonus.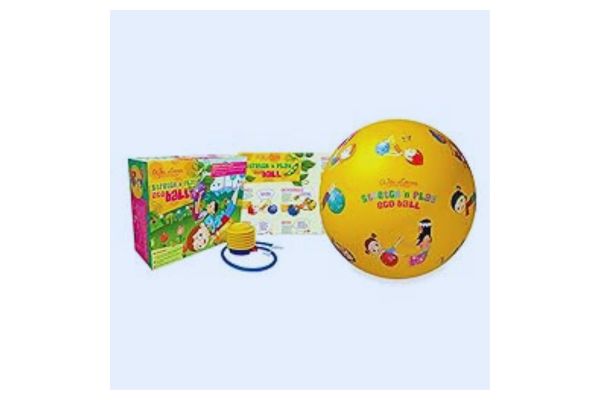 Yoga Dice – In this play game all you have to do is, roll one of the six, six-sided Yoga Dice, each featuring poses, breaths, or focus techniques for all players to try. The group wins by holding yoga poses together. This is suitable for ages 6 and older.
Conclusion
Yoga Props for Kids are basically the tools or equipment that are used in order to gain the attention of kids towards yoga practices and make them understand the benefits of Yoga and various asanas. Yoga practices include various exercises which enhance kids' daily routines and improve their well-being. Yoga props include various yoga books, yoga pose cards, yoga play games, and other equipment that have various exercises and poses that can be helpful for kids to practice in a fun way. Yoga props fo kids are very useful for parents and yoga teachers who want to teach their kids and students the best yoga practices in an effective manner.
FAQs
Can yoga blocks be useful for kids, and in what way?
Yes, yoga blocks are those yoga props for kids that are beneficial for kids as they can be used to modify and adapt poses. For example, they can help children reach the floor in poses where flexibility is limited, providing support and preventing overstretching.
At what age can children start using yoga props?
Children as young as 3 or 4 can start using simple yoga props for kids like mats. However, the choice of props may depend on the child's age, physical abilities, and the type of yoga practice they are engaging in.
Are there any safety considerations when using yoga props with kids?
Yes, safety is crucial. Make sure the yoga props for kids are age-appropriate and free from any hazards like sharp edges. Additionally, children should be supervised while using props to avoid misuse.
How do I choose the right size and type of yoga props for my child?
The choice of yoga props depends on your child's age, size, and yoga experience. It's essential to select props that are age-appropriate and suitable for their specific needs. You can consult with a yoga instructor or shop assistant for guidance.