Best Moisture-Wicking Yoga Socks
Yoga practice offers a number of physical and mental benefits to an individual. But sometimes you feel difficulty maintaining grip and stability while performing different poses of yoga. This is where yoga gloves and socks come into existence. These yoga accessories play an effective role in enhancing your yoga practice by providing you with all the comfort, grip, and support that is needed. In this article, we will make you review various types of yoga socks available and their benefits in yoga sessions.
Benefits of Moisture-Wicking Yoga Socks
You need a good pair of yoga socks in order to have a comfortable yoga session. A good pair of gripped and moisture-wicking yoga socks can enhance your yoga practice and help in avoiding bulk weight on your yoga mat. Here are some of the benefits of moisture-wicking yoga socks. Have a look: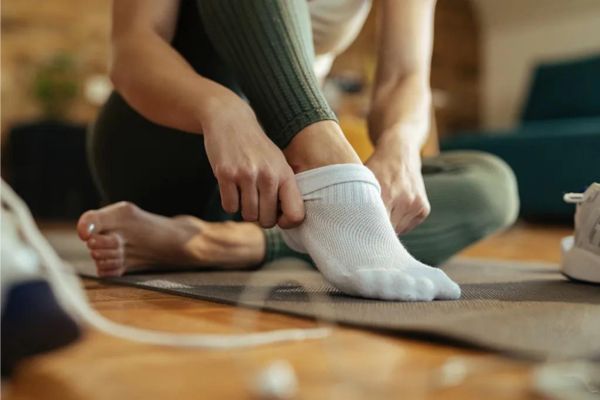 Reduced risk of blisters
If your skin is moist while practicing yoga or any other workout session, then there is a greater amount of friction which causes the chances of having blisters on your feet. Dry skin creates less friction which avoids any kind of skin irritation or other skin diseases. Moisture-wicking yoga socks can help reduce the risk of blisters by keeping your feet dry while practicing and preventing friction.
Comfort
Moisture-wicking yoga socks help in making your yoga session comfortable to practice by keeping the feet dry. Wet socks should be avoided during exercise as they lessen your comfort while practicing yoga.
Odor prevention
Too much sweat while practicing yoga or other exercises can cause odor-causing bacteria to grow on the skin and in socks which leads to bad and unpleasant smells. Moisture-wicking yoga socks help prevent the growth of bacteria and keep your feet dry.
Improved performance
Moisture-wicking yoga socks are also helpful in regulating the temperature of the feet while practicing, which ultimately improves your performance during exercise. Keeping the feet dry and cool is the main feature of these socks.
Better overall foot health
Moisture-wicking yoga socks keep your feet dry and avoid sweat in the foot. These socks reduce the risk of developing foot fungus and other skin irritations from the extended time of yoga sessions.
Read More: Introducing Yoga to Kids in a School Classroom 
Top Moisture-Wicking Yoga Socks
Before performing any difficult yoga pose, you need to wear socks that are more grippy and moisture-wicking. Yoga socks are very helpful in performing tough poses of yoga including aerial yoga. These socks prevent you from any injury that can be caused by slipping out from a pose. Your feet are those areas of your body that receive the most blood flow while practicing yoga or another workout session. This excessive sweat causes bad odor and foot fungus which can be reduced by wearing moisture-wicking yoga socks during a yoga session. We are here with some top picks of moisture-wicking yoga socks. Have a look:
1. Balenzia Women's Anti-Bacterial Anti-Skid Yoga
Balenzia is one of the best brands in making moisture-wicking yoga socks. They make authentic socks at the best prices. These Balenzia socks have two key features called "anti-skid" to give you a proper grip while performing yoga and "breathability" to keep your feet cool and dry while practicing sweaty yoga poses.
2. Strauss Yoga Socks
This pair of yoga socks have anti-skid properties on their soles which protect you from slipping while doing yoga, pilates, dancing, etc. Also, these socks have an opening on the front of the ankle which provides ventilation to your foot prevents you from sweating, and keeps your feet dry.
3. Piercell Yoga Socks for Women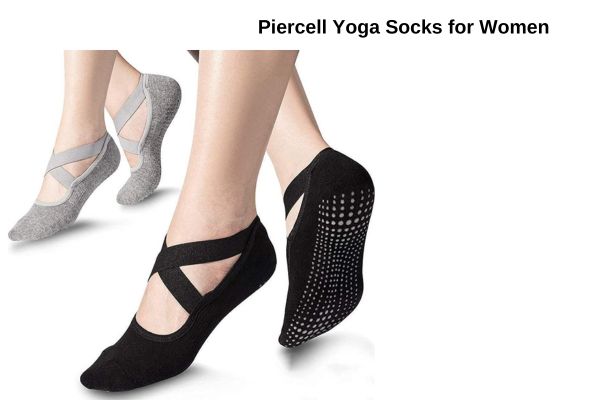 These are some of the top-listed yoga socks for women providing anti-slip and anti-skid features. These are the half-ankle-length socks with two diagonal straps. These straps protect your feet and ankles from serious injuries while performing yoga, pilates, or dance.
4. Talking Sox Store Loafer Yoga Pilates Socks
These socks are made of high-quality fabric that assures proper ventilation, firm grip, and design. The main feature of these socks is their fabric which provides ventilation to your feet, keeping them dry even in the moist weather.
Things to remember while picking Moisture-Wicking Yoga Socks
It can be tough sometimes to choose the best pair of yoga socks among various styles, designs, and features. Some points to always keep in mind while picking the best moisture-wicking yoga socks for yourselves are:
1. Materials
Socks are usually made of fibers, including synthetic ones like polyester or nylon, to add shape and structure to the sock, and elastane, to add stretch for a good fit. But nylon and polyester are moisture-wicking as compared to natural cellulosic or protein-based fibers. You can go with other fibers like cotton or acrylic, which mimic wool. But cotton is known for its breathability and adds softness to your feet.
2. Style
There are various styles and options as we discussed above available for grip socks which vary from traditional ankle socks. Each style has its own merits, so this is completely your personal preference.
3. Sizing
To ensure a proper, stay-in-place fit, those with smaller or larger feet should search for socks that come in multiple sizes.
4. Features
Some socks have unique features, such as ventilation or compressive bands, which can help add breathability for sweaty feet or provide a secure fit for users who need more grip than others. Sometimes, cushioned soles are also preferred by most testers but may not be ideal for those who like being able to feel the ground beneath them.
5. Grips
The "grips" on grip socks are typically made of silicone or a thin polyvinyl chloride or PVC. The pattern of the grips on the sole helps determine exactly where the socks provide traction and stability. If you typically find yourself on your toes during your workouts, look for a pair with more grips in that area.
Conclusion
Moisture-wicking yoga socks are valuable yoga accessories that can enhance your yoga practice by providing proper grip, stability, hygiene, and comfort and preventing moisture from your feet whether you're practicing yoga sessions on a slippery surface or in humid weather. These accessories enhance your overall experience of practicing yoga. When you are picking yoga socks, look for the features first that match your needs and preferences.
FAQs
Q1. Can moisture-wicking yoga socks replace yoga mats?
Moisture-wicking yoga socks are not a substitute for yoga mats. They provide added stability and grip for your feet during practice, but a yoga mat is essential for cushioning, support, and hygiene during various yoga poses.
Q2. Are moisture-wicking yoga socks suitable for hot yoga or Bikram yoga?
Yes, moisture-wicking yoga socks are particularly well-suited for hot yoga or Bikram yoga, where high temperatures and sweating are common. They help prevent your feet from becoming excessively slippery, ensuring a safer and more comfortable practice.
Q3. How do I clean moisture-wicking yoga socks?
Most moisture-wicking yoga socks are machine washable. Follow the care instructions on the product label to maintain their effectiveness and lifespan. It's recommended to wash them after each use to keep them fresh and hygienic.
Q4. Can I wear moisture-wicking yoga socks with yoga shoes?
Moisture-wicking yoga socks are typically designed to be used barefoot, directly on the yoga mat. However, if you prefer to wear yoga shoes for added grip and support, you can consider using them with socks if they are compatible.
You may also like:
Best Yoga DVDs for Weight Loss