Best Long Length Yoga Tops
Comfortable clothing is an essential aspect of practicing yoga, as it allows for ease of movement and supports the body in different poses. Best long length yoga tops can provide added coverage and support, allowing you to move with confidence and without any distractions.
Whether you're a experienced yogi or just starting out, a good yoga top can help elevate your practice and make your experience more comfortable and enjoyable.
In this article, we will explore some of the best long-length yoga tops available on the market today. We are also providing you with information to help you find the perfect one for your practice.
Factors to Consider When Choosing a Long Length Yoga Tops
Here are few factors you should consider while Choosing a Long-Length Yoga Top:
Material: Pay attention to the fabric composition. Look for moisture-wicking materials like nylon, spandex, or polyester for optimal comfort during your practice.
Fit: Determine whether you prefer a form-fitting or loose-fitting top. The right fit depends on your personal comfort and the type of yoga you practice.
Support: If you need additional support, consider tops with built-in bras or shelf bras. This can be particularly helpful for high-impact yoga styles.
Design and Style: Choose a style that reflects your personality and makes you feel confident. Whether it's a strappy back, a unique pattern, or a bold color, your style matters.
Length: Consider how long you want your top to be. Longer tops provide more coverage, while cropped tops offer a different look and feel.
Breathability: Ensure that the top you choose offers proper ventilation to keep you cool during your practice.
Budget: Set a budget that aligns with your financial preferences and explore options within that range.
Benefits of Long Length Yoga Tops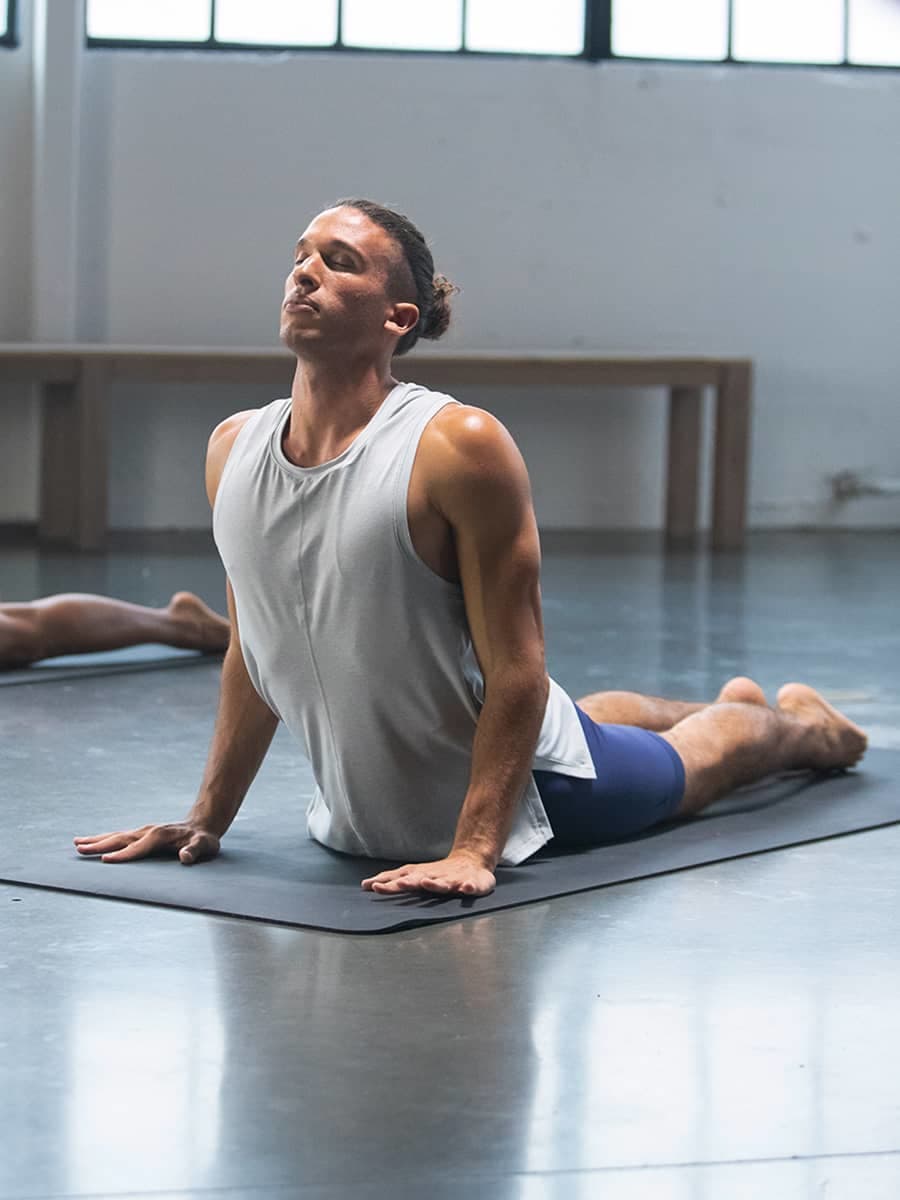 Here are a few benefits of Long-Length Yoga Tops:
Coverage and Comfort: Long-length yoga tops provide the extra coverage you need to feel confident during your practice. They don't ride up or expose your midriff, ensuring you can focus on your asanas without any distractions. The extra length also keeps your back and sides covered during poses, promoting a comfortable and worry-free experience.
Versatility: Long-length yoga tops are versatile and can be paired with various bottom wear, including leggings, yoga pants, or shorts. This flexibility allows you to mix and match your outfit while maintaining a polished and put-together look.
Style and Elegance: While functionality is crucial, style matters too. Long-length yoga tops are available in a wide range of designs, colors, and patterns, ensuring you can express your personal style even during your practice. These tops often incorporate fashion-forward elements, making them suitable for both the yoga studio and casual outings.
Enhanced Confidence: When you feel good in what you're wearing, your confidence soars. Long-length yoga tops not only provide coverage but also contribute to your overall confidence and self-assurance, which can positively impact your yoga practice.
Top 5 Picks for Long Length Yoga Tops in 2023
1. Mippo Workout Top for Women
Look no further for the all-around functional, elegant, full length tank top of your dreams. This top is flattering most body types. The tank is longer than average for full coverage below the waist. With a super soft material and gorgeous color options, the Mippo tank is best for hatha and vinyasa yoga classes, or just lounging around the house.
Pros:
Stylish cross back design
Open arms for full range of motion
Longer back hem covers waist
Rounded neck is cute without being too revealing
Cons:
Awkward fit on certain body types
May not be long enough for extra tall women
Does not absorb sweat very well
2. Betisun Long Sleeve Thumbhole Shirt
Anyone else get cold in yoga class? This top is perfect for staying cozy and covered during all those deep stretches and meditations. It hugs you in all the right places and stays put during inversions. The thumbholes keep the sleeves down over your arms and the high neck cut ensures that no cleavage shows. The front is long enough to wear with your leggings and not worry about showing too much.
Pros:
Long length for butt coverage
Not see-through
Soft and sweat-proof fabric
Flattering open back for ventilation
Ultra comfortable
Cons:
Needs hand washing for best longevity (shrinks in dryer)
Runs big
May ride up during inversions
3. Neleus women's 3-Pack Compression Dry Fit Tank Top
Three tanks for under $25 that are sweat-wicking, breathable, and compression fit? Sounds too good to be true, but Neleus offers it and they deliver. These tanks make it easy to move in ashtanga, hot yoga, or any workout without worrying about sweat stains or showing too much.
The long length fits most women past the hips and stays tight enough to not ride up when you bend over. Get a size smaller if you want a true compression fit.
Pros:
Extra long length tank
Super comfortable
Ultra breathable and never any sweat stains
Stretch that moves with you without riding up
Not see through
Cons:
Not true compression fit (need to size down)
Still need to wear a sports bra underneath
4. CRZ Yoga Seamless Quick Dry Gym Top
This form fitting short sleeved top is extra long and flattering. Many have compared it to better than lululemon! It features diagonal vents and seams in all the right places. The material is dry fit for super hot yoga sessions.
It covers your butt and stays put in pretty much every position. Best of all, it perfectly skims the body in the best ways without being too tight or too loose.
Pros:
Slim fit and long coverage
Seamless fabric perfect for super hot or sweaty yoga sessions
Loose fit retains shape
High quality sweat wicking fabric
Muted attractive color options
Cons:
Runs big (size down for tighter fit)
May be too long if you have a short torso
5. CRZ Yoga Women's Strappy Back Yoga Top with Built in Camisole
Criss crossing straps are icing on the cake when it comes to cute sports bras and yoga tops. This CRZ YOGA camisole has built-in support with trendy details, a slim fit, thick sweat-wicking fabric, and Lycra material for shape retention.
The triple strap top is designed to lay flat under the armpits and not slip down. Best of all, it is long enough to go past the waist and stay in place during twists or inversions.
Pros:
Built-in support bra functional even for large busts
Removable cups
Lay-flat design to prevent
Slim, compression fit
Flattering and trendy back details
Covers the hips on most physiques
Cons:
Runs small
Lighter colors show removable pads
FAQ'S
Q. How do I know the right size for a long-length yoga top?
A: To find the right size, consult the brand's sizing chart. Measure your bust, waist, and hips, and compare these measurements to the chart. If you're between sizes, it's often advisable to size up for a more comfortable fit during yoga sessions.
Q. Can I wear long-length yoga tops outside the studio?
A: Absolutely! Many long-length yoga tops are designed to be versatile, allowing you to wear them casually with jeans or shorts. Their stylish designs make them suitable for a wide range of activities beyond yoga.
Q. What's the difference between long-length and cropped yoga tops?
A: Long-length tops provide more coverage, typically extending below the hips, while cropped tops end just above the waist. The choice depends on your personal comfort and style preferences.
Q. Are there eco-friendly options for long-length yoga tops?
A: Yes, there are many eco-friendly options available. Look for tops made from sustainable materials like organic cotton, TENCEL™ Lyocell, or recycled polyester. These choices promote environmental consciousness while providing comfort and style.
You May Also Like:
Conclusion
Finding the best long length yoga tops can greatly enhance your yoga practice by providing comfort, flexibility, and support. With so many options available, it's important to consider factors such as material, fit, and style to ensure that you find a top that meets your needs and preferences.
Some of the top options on the market include tops made from breathable, moisture-wicking materials, those with built-in bras or adjustable straps, and those with flattering designs and patterns.
Ultimately, the best long length yoga top for you will depend on your individual needs and preferences, but with careful consideration and research, you can find a top that will help you feel confident and comfortable during your practice.
Remember that the perfect long-length yoga top should make you feel confident and comfortable as you embark on your yoga journey.
Namaste!