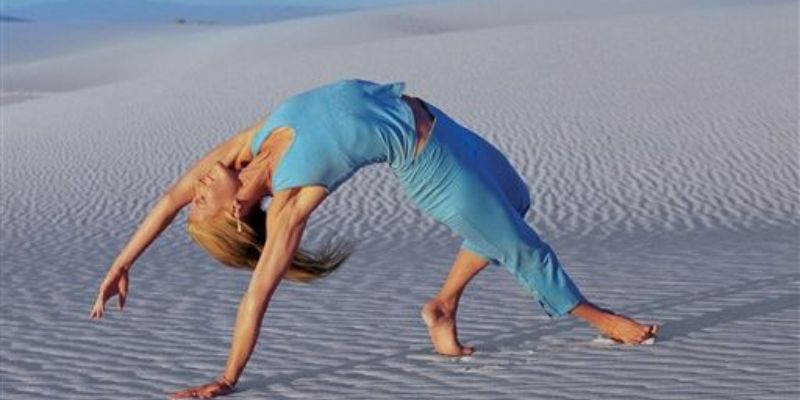 Power yoga is a fantastic approach to improve general health and wellbeing, reduce stress, and get in shape. Additionally, although it's preferable to take sessions in person at a yoga studio or gym, it's not always practical due to many reasons.
Power yoga DVDs come in handy in this situation. There are several Yoga DVDs available for seniors to help you get started if you want to start a power yoga practice but don't have access to a gym or yoga studio.
A terrific approach to practise yoga in the convenience of your home is with a power yoga DVD. They provide the flexibility to practise whenever and wherever you like, as well as the option to cater your practise to your individual requirements and interests. But it can be difficult to select the best power yoga DVDs with so many available.
Without wasting time, let's move into the topic.
What is Power Yoga?
Power yoga is a vigorous and physically challenging form of yoga that combines flexibility, strength, balance, and mindful breathing. It is a contemporary offshoot of traditional Ashtanga yoga, emphasizing the development of physical fitness.
Power yoga sessions often consist of a series of poses performed in a flowing sequence, promoting both cardiovascular and muscular endurance. This practice is a fantastic way to build strength, improve flexibility, and reduce stress.
Why Choose Power Yoga DVDs?
Power Yoga DVDs are a convenient and effective way to practice this invigorating style of yoga. Here are some reasons why they might be the perfect fit for you:
Flexibility: With Power Yoga DVDs, you have the flexibility to practice at your own pace and on your schedule. You can choose when and where to practice, eliminating the need for class schedules and commutes.
Variety: Many DVDs offer various routines and intensities, ensuring you can progress from beginner to advanced levels. This diversity allows you to tailor your practice to your specific needs and goals.
Cost-Effective: Power Yoga DVDs are a cost-effective alternative to gym memberships or studio classes. You make a one-time purchase that provides you with long-term access to guided sessions.
Privacy: Practicing at home can be a more comfortable and private experience, especially for beginners. You can work on your practice without any fear of judgment or intimidation.
Repetition: DVDs allow you to revisit sessions as many times as you like, honing your skills and improving your performance over time.
Top 5 Power Yoga DVDs in 2023
Here are some of the best power yoga DVDs that will help you get a great workout and achieve your fitness goals:
1. Power Yoga Collection: 3 Full-Length Programs
Rodney takes a practical approach to Power Yoga, focusing on showing how powerful it can be without getting too spiritual.
In his DVDs, Rodney's teaching style is simple and easy to understand. You don't need to be an expert to follow along with all three programs.
Pros:
The DVD combines three programs into one at a low cost. Rodney talks about both the physical and mental benefits, making it well-rounded.
Rodney's calm voice makes it easy to follow and meditate.
The Yoga Burn part of the DVD is great for losing weight.
Everything is explained clearly for an easy experience.
Cons:
This is better for intermediate yoga practitioners due to the challenging poses.
It helps if you have some basic knowledge of common terms to get the most out of this DVD series.
2. Power Yoga – Total Body Workout
In this 75-minute DVD, Rodney Lee is your yoga expert. You'll find lots of different poses in this hour-long workout, which is quite intense and covers a wide range of movements.
This challenging routine can make you feel a cleansing heat throughout your body, helping you build strength inside and out with each workout.
It's important to know that this is a tough workout, so it's best suited for people who are already pretty good at yoga, not total beginners. If you're new to yoga, you might want to start slowly and build up to this.
Pros:
The 60+ minutes straight workout sessions with no rests in between is definitely a challenge but something you may enjoy for added difficulty.
Poses can be done by almost anybody without previous experience.
Perfect for building your endurance and stamina.
Targets all parts of your body, including the back and the arms.
Rodney has a very unique and powerful persona that delivers well with how he teaches.
Cons:
Not the right Yoga DVD for beginners who haven't done Yoga for at least six months.
The 60+ minutes of no resting can be exhausting and may be something you should work towards over several weeks.
3. Bryan Kest Power Yoga Complete Collection
Bryan West is famous for teaching yoga to Hollywood celebrities. He has a straightforward and effective way of helping regular folks like us.
He'll teach you the basics and the advanced secrets of power breathing and how to build your endurance during your workouts. Bryan's friendly and confident personality is so inspiring; it can motivate you while you do your Power Yoga.
This workout is suitable for everyone, no matter your skill level, and it offers a complete system to follow.
Pros:
Requires only just a most to help you workout. No need to buy any belts, towels, or other items to workout.
It's easy to follow and perfect for newbies and even advanced practitioners.
Bryan is constantly sharing his insight and never stops unless he knows he has explained it all in detail completely.
Bryan is a reliable instructor that knows what he is doing with his years of experience.
Cons:
Bryan has a strong and confident personality that may turn people off, but it is mainly about how you interpret how he acts. Bryan is still a very humble and down to Earth instructor.
The product is very affordable and doesn't require you to spend on anything else as you buy this DVD.
4. Jillian Michaels: Yoga Meltdown
Jillian Michaels is a well-known fitness instructor, especially famous for her role on the TV show, The Biggest Loser.
In her new DVD, she introduces a unique Yoga technique that you won't find from any other instructor. It's a tough, effective system that combines her dynamic training to help you become more flexible and shed some pounds.
You get two 30-minute sessions in this DVD, from the warm-up to the cool-down. The first session, Level One, has a flowing sequence that burns calories. In the second workout, there are more twists and balance poses to help you lose even more weight.
In this Power Yoga program, Jillian uses interval and repetition training. She teaches a new, energetic version of Yoga that's great for your fitness.
Pros:
Perfect for those of you wanting to use Yoga for losing weight using a new program.
Since she's using mainly interval training, your heart rate will go up and down, which effectively helps with developing lung capacity efficiently.
Jillian turns plenty of the traditional poses in Yoga and turns them into serious workouts that can help you develop your body and gain serious core muscle.
Cons:
It does not follow the traditional Yoga flow found in traditional training.
Jillian goes a little faster in the sequences to incorporate weight loss exercises, but it's overall a very powerful system.
Not the right product for those looking to invest in a DVD that follows the key principles of Yoga and using a systematic and relaxed system.
5. Power Yoga For Every Body – Over 20 Workouts
This special program offers you 24 different routines that can be used at any time of the day to address various needs. These yoga sessions can range from as short as 20 minutes to as long as 120 minutes.
With this DVD, you'll have access to hours of fantastic content and workouts to help you exercise effectively. It's suitable for everyone, thanks to the instructor Barbara Benagh, who includes workouts for both beginners and those who are more advanced, all in one DVD.
Barbara's main focus is on her Slow Flow Method, and she takes care to guide you on achieving the right alignment, improving your breathing, and stretching in the correct way.
Pros:
You get routines that are perfect for either morning or afternoon practices, so you have the option to choose and get the best workout possible for that time.
You also get specialized workouts to help specifically with different issues.
With routines as short as 20 minutes long, you'll always have extra time to spend to do a simple workout.
The interview with the instructor can help ease your mind because of her tips, secrets many best advice for getting started.
Cons:
It's difficult sometimes to choose the right workout for where you are in the day.
Some workouts may be a bit slow for those who want a fast paced experience.
FAQ'S
Q. Can beginners practice power yoga using DVDs?
A: Absolutely. Many Power Yoga DVDs, like Barbara Benagh's "Power Yoga for Every Body," are specifically designed for beginners. They provide step-by-step instructions and modifications to ensure that newcomers can practice safely and effectively.
Q. Are Power Yoga DVDs suitable for weight loss?
A: Power yoga can be an excellent choice for weight loss, as it combines strength training and cardio. Many Power Yoga DVDs, such as "Jillian Michaels: Yoga Meltdown," are designed to help you burn calories and shed pounds.
Q. What equipment is needed for Power Yoga DVDs?
A: Most Power Yoga DVDs require minimal equipment. A yoga mat, comfortable clothing, and a water bottle are typically all you need. Some DVDs may suggest the use of yoga blocks or straps, but these are often optional.
Q. Can I combine Power Yoga with other forms of exercise?
A: Yes, you can combine power yoga with other forms of exercise. It complements activities like running, weightlifting, or swimming, providing balance and flexibility to your fitness routine.
You May Also Like:
Conclusion
Power yoga can be an excellent way to improve strength, flexibility, and overall fitness. However, finding the right class or teacher can be difficult, especially for those with busy schedules or limited access to studios. That's why investing in a high-quality power yoga DVD can be a great option for anyone looking to practice at home.
By reviewing some of the best power yoga DVDs on the market, we can see that there are many great options available to suit a variety of preferences and skill levels. Whether you're a beginner or an experienced yogi, incorporating power yoga into your fitness routine can help you achieve your goals and enhance your overall well-being.
Remember to practice regularly, stay committed, and enjoy the journey towards a healthier, more balanced you. With the guidance of these DVDs, you'll be well on your way to mastering power yoga and reaping its numerous benefits.
Namaste!